BREAKING: JAMB Releases New Cut-Off Marks + Post UTME To Start Again In All Institutions
– JAMB released new cut-off marks for tertiary institutions
– The institutions are however at liberty to raise theirs above JAMB's requirement
– JAMB also lifted the ban on Post-UTME
The Joint Admission and Matriculation Board (JAMB) has released the cut-off marks for Nigerian tertiary institutions while also lifting the ban for post UTME examination.
Premium Times reports that these decisions were taken at the 2017 Combined Policy Meetings on Admissions into Tertiary Institutions in Nigeria which ended on Tuesday, August 22.
Minimum cut-off marks for tertiary institutions are:-
› Universities were pegged at 120
› Polytechnics and colleges of education were pegged at 100
› Innovative enterprising institutes was pegged at 110
IMPORTANT NOTICE:- Institutions were however allowed to raise their cut-off marks above JAMB's stipulation.
It was also agreed that admissions into public degree awarding institutions for the 2017 UTME examination will end on January 15, 2018 while private institutions will end theirs on January 31, 2018.
It was also revealed that decisions on first choice candidates by universities will be expected to be complete October 15 and second choice candidates will end on December 15.
The rest of the students seeking admission will be available for other institutions till the January closing dates.
Ishaq Oloyede who is the registrar of JAMB said a Central Admission Processing System (CAPS) will be used to streamline admission processes among institutions based on challenges associated with the former approach.
He said:-
All over the world, there is agitation for dynamic educational policy," he said.
"JAMB only admits for National Diploma, not Higher National Diploma; so why should we use the same requirement for ND and BSC, that is unreasonable parity
Do you love what you've just read? Kindly share and follow us on TwitterFollow us
Please follow and like us:
OAU Sex Scandal: Accused Professor Goes Into Hiding
–Professor Richard Akindele, a lecturer in the Department of Management and Accounting of the Obafemi Awolowo University, Ile Ife, Osun State, who was allegedly heard in an audio recording which has now gone viral demanding for sex to pass a student has gone into hiding.
READ ALSO:Syria Downs Most Missiles Of US, UK, France, And Russia
Prof. Richard, who is also a priest in the Anglican Church has since deleted his Facebook account, it was gathered.
The lecturer, Richard Akindele
All efforts to reach him via his personal telephone number have been abortive.
The male voice in the audio recording demanding sex to pass a female student has also been identified by members of the Anglican Diocese of Ife, Osun State who have spoken to journalists on the issue.
It was also gathered from investigations that the lady who spoke with him is a final year student, who had failed a course taught by the lecturer.
READ ALSO: Saraki Disbands President Buhari's Support Group In Senate
Jay Reporters had earlier reported that the management of OAU had released a statement, saying that they are conducting an investigation into the matter and will take the necessary actions to reprimand the lecturer.
Do you love what you've just read? Kindly share and follow us on TwitterFollow us
Please follow and like us:
JAMB Registrar blasts Nigerians for joking over N36m swallowed by mysterious snake
-Prof Ishaq Oloyede, Registrar, Joint Admissions and Matriculation Board (JAMB), has slammed Nigerians that have been making jokes out of the missing N36m from the board's office in Makurdi, Benue State.
The JAMB boss was reacting to the recent claim by Philomena Chieshe, a sales clerk in JAMB office, Makurdi that her housemaid connived with another JAMB staff, Joan Asen, to "spiritually" swallow N36m from the vault in her office.
In her confessional statement while being interrogated by a team of auditors, she said that Joan Asen and her accomplices confessed that they had been stealing the money "spiritually" through a mysterious snake that always sneaked into the office to swallow the money from the vault.
Oloyede, who appeared in Focus, a morning programmed monitored by DAILY POST on AIT, said it is quite unfortunate that Nigerians have decided to turn the incident into a joke, thereby celebrating mediocrity.
According to him, "That is Nigerians for you, making jokes out of serious issue. I didn't find it funny since the story broke out because I think as a nation with a future, rather than celebrating those achieving success, we are busy celebrating people who should be caned.
"You turned serious issue into to a national or an international joke. There are many snakes in other establishment but because those overseeing them are also snakes, that is why they could not be able to identify those snakes.
"Rather than creating an impression that JAMB is extraordinarily bad, they should give us a lesson to check where we went wrong."
Source: Dailypost
Do you love what you've just read? Kindly share and follow us on TwitterFollow us
Please follow and like us:
Application letter written by one of the 'new' teachers in Kaduna
-See application letter allegedly written by one of the 'new' teachers in Kaduna
Hahahahahahahhh@ Well its no longer a new story that graduates and even principals of schools dont know how to write  and read properly.
Recently  Kaduna State Government Releases Scripts Of Teachers Who Failed Primary Four Competency Test and now this is another bomb. 
Check out the letter below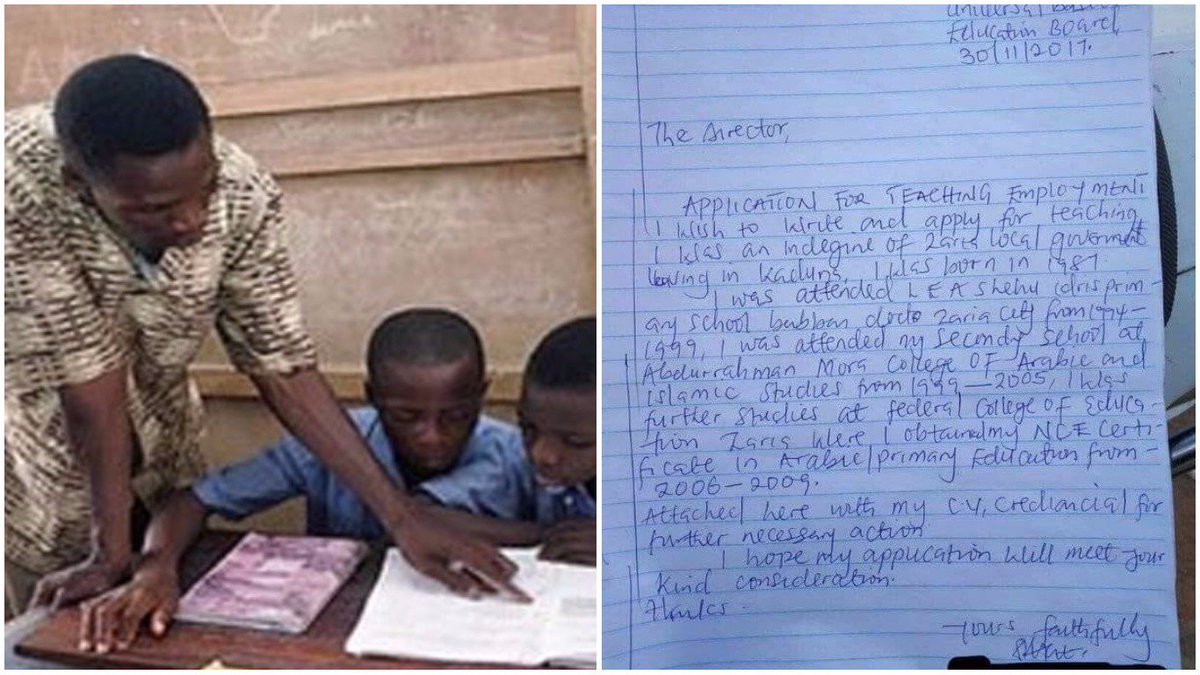 Do you love what you've just read? Kindly share and follow us on TwitterFollow us
Please follow and like us: