4 Things You Should Consider Before Taking A New Job
Are you interested in changing jobs? If you are, you may already have a dream job in mind. Although it is nice to dream, it is important that you keep reality in mind. (Reality Check… Finding a new job can be difficult, but it is more than possible to do so). However, you do not want to just take any job offer that comes your way just because you are desperate. A few of the things that you should look out for in a new job are outlined below.
Stability
When searching for a new job, you will want to look for those that are intended to be long-term. Long-term positions are ideal if you are looking to quit your current, stable job. They are also ideal if you rely on your income to help support your family. You will want to have and possibly need to have income not only right away, but income that you can rely on for months or years to come. That is why temporary positions may not be in your best interest, as a job that only lasts one or two months may be unable to provide you with the security that you want and need.
Prospects
The ability to advance is another thing that you will want to look for in a new job. If you regularly find yourself setting goals that you would like to achieve, such as higher pay or a position in management, you will want to work for a company where you have the opportunity to advance. You will want to look for those that advertise that they like to promote from within. Promotion from within is what gives you a better chance of advancing. In fact, advancement is something that potential employers like to hear, so be sure to mention your hope for advancement in your job interviews.
Enhanced Package
Good, but realistic pay is something else that you should look for in a new job. Unless you are sure, you may want to try and refrain from taking a pay cut. If you are able to receive additional benefits that you currently do not have, a pay cut may be worth it. But it is advised that you proceed with caution. Before you search for a new job, you may want to create a budget for yourself. A budget can help you determine how much money you need to make. This will ensure that you are able to find a new job that allows you to adequately pay your bills and support your family.
Proximity To Home
Close proximity is another feature that you may want to look for in a new job. Location may not be an issue if you are willing to travel or relocate, but you should take your possible commute into consideration. Jobs that are miles away from home (intercity/state) may require extra travel time, possibly taking you away from your family. You also need to examine the cost of fuel consumption and wear on your vehicle.
So, as they say, look before you leap.Consider the above factors before taking up that new job to avoid a case of "out of the frying pan into the fire".
Do you love what you've just read? Kindly share and follow us on TwitterFollow us
Please follow and like us:
OAU Sex Scandal: Accused Professor Goes Into Hiding
–Professor Richard Akindele, a lecturer in the Department of Management and Accounting of the Obafemi Awolowo University, Ile Ife, Osun State, who was allegedly heard in an audio recording which has now gone viral demanding for sex to pass a student has gone into hiding.
READ ALSO:Syria Downs Most Missiles Of US, UK, France, And Russia
Prof. Richard, who is also a priest in the Anglican Church has since deleted his Facebook account, it was gathered.
The lecturer, Richard Akindele
All efforts to reach him via his personal telephone number have been abortive.
The male voice in the audio recording demanding sex to pass a female student has also been identified by members of the Anglican Diocese of Ife, Osun State who have spoken to journalists on the issue.
It was also gathered from investigations that the lady who spoke with him is a final year student, who had failed a course taught by the lecturer.
READ ALSO: Saraki Disbands President Buhari's Support Group In Senate
Jay Reporters had earlier reported that the management of OAU had released a statement, saying that they are conducting an investigation into the matter and will take the necessary actions to reprimand the lecturer.
Do you love what you've just read? Kindly share and follow us on TwitterFollow us
Please follow and like us:
JAMB Registrar blasts Nigerians for joking over N36m swallowed by mysterious snake
-Prof Ishaq Oloyede, Registrar, Joint Admissions and Matriculation Board (JAMB), has slammed Nigerians that have been making jokes out of the missing N36m from the board's office in Makurdi, Benue State.
The JAMB boss was reacting to the recent claim by Philomena Chieshe, a sales clerk in JAMB office, Makurdi that her housemaid connived with another JAMB staff, Joan Asen, to "spiritually" swallow N36m from the vault in her office.
In her confessional statement while being interrogated by a team of auditors, she said that Joan Asen and her accomplices confessed that they had been stealing the money "spiritually" through a mysterious snake that always sneaked into the office to swallow the money from the vault.
Oloyede, who appeared in Focus, a morning programmed monitored by DAILY POST on AIT, said it is quite unfortunate that Nigerians have decided to turn the incident into a joke, thereby celebrating mediocrity.
According to him, "That is Nigerians for you, making jokes out of serious issue. I didn't find it funny since the story broke out because I think as a nation with a future, rather than celebrating those achieving success, we are busy celebrating people who should be caned.
"You turned serious issue into to a national or an international joke. There are many snakes in other establishment but because those overseeing them are also snakes, that is why they could not be able to identify those snakes.
"Rather than creating an impression that JAMB is extraordinarily bad, they should give us a lesson to check where we went wrong."
Source: Dailypost
Do you love what you've just read? Kindly share and follow us on TwitterFollow us
Please follow and like us:
Application letter written by one of the 'new' teachers in Kaduna
-See application letter allegedly written by one of the 'new' teachers in Kaduna
Hahahahahahahhh@ Well its no longer a new story that graduates and even principals of schools dont know how to write  and read properly.
Recently  Kaduna State Government Releases Scripts Of Teachers Who Failed Primary Four Competency Test and now this is another bomb. 
Check out the letter below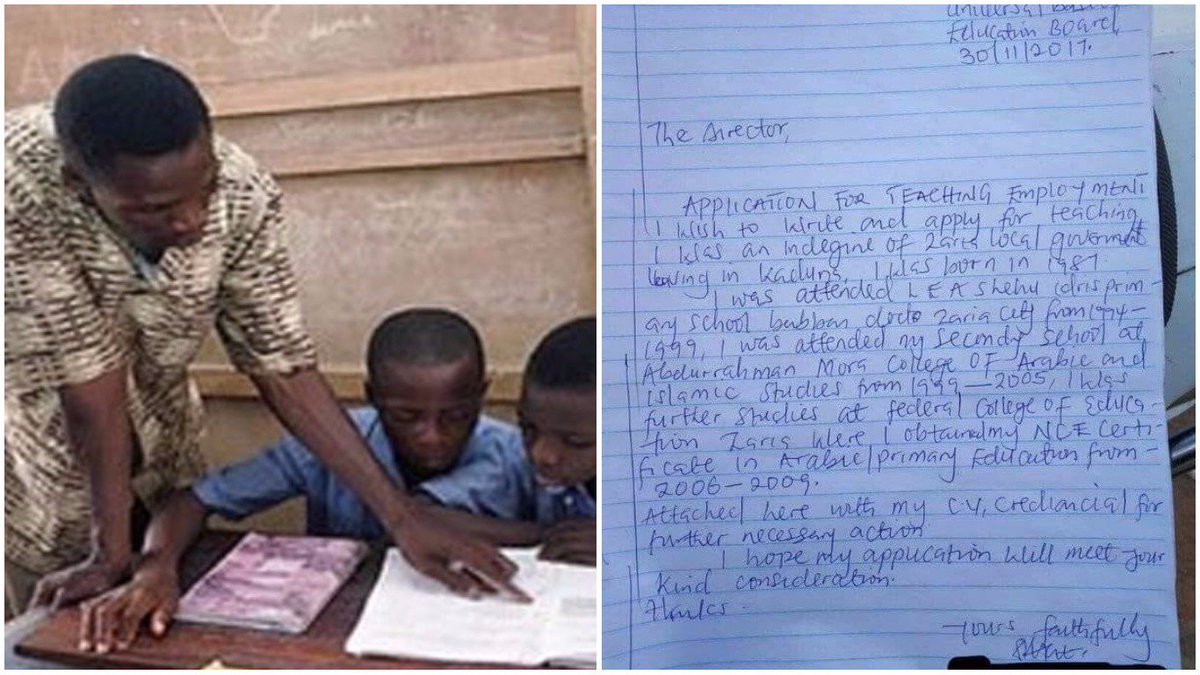 Do you love what you've just read? Kindly share and follow us on TwitterFollow us
Please follow and like us: